Yoast SEO 15.6 is out today! This release comes with a lot of goodies, like support for the Norwegian language, a new estimated reading time feature and improved support for web stories. But that's not all! aWe've added a brilliant new feature to the free Yoast Duplicate Post plugin to help you seamlessly rewrite and republish your content. Curious? Find out all about it here!
Table of contents
Estimated reading time with Yoast SEO Premium
We've added another cool new feature for Yoast SEO Premium users: you can now let your readers see how long it takes to read your articles. Simply showing the number of words in an article is a relatively bad way of finding out how long an article is. It would be much better to get an indication of the time it would take to read an article. That's why we've added an estimated reading time feature. For this, we calculate how long it will take for someone to read an article based on the average reading time.
Adding the estimated reading time to your articles helps manage expectations for potential readers. Sometimes, you don't have the twenty minutes it would take to read that article. It would be handy know that upfront rather than after reading for ten minutes — and scrolling down to see how far you still have to go.
The estimated reading time feature consists two parts:
A helpful way to show you the estimated reading time in Insights
A simple block you can drop in anywhere to show your reader the estimated reading time (only works in the block editor)
Here's how that Insights page looks: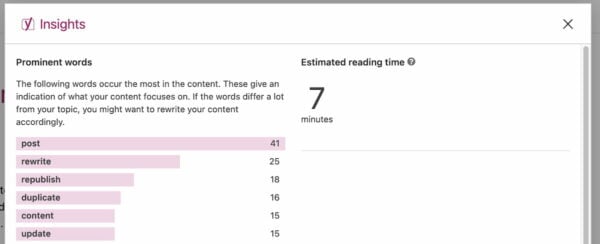 And the estimated reading time block for the block editor:

Norwegian language support
Last year, we added a ton of new languages to Yoast SEO and we're not about to slow down. In Yoast SEO 15.6, we can welcome Norwegian to the club! This is the fifteenth language that receives support for grammatical forms in Yoast SEO Premium. Unfortunately, it's not full language support yet as the readability analysis will be updated at a later date. With this release, we also improved keyphrase recognition in Norwegian by filtering out function words.
The word form feature helps you write more naturally as you don't have to spend any time fitting the focus keyphrase awkwardly into your sentence. It recognises grammatical forms of your keyphrases and the words don't even have to be in the same order to be found. It gives you more time to focus on the writing and editing part of your job — helping you to write that awesome piece of content.
The following languages now have support for word forms in Yoast SEO Premium: English, German, Dutch, French, Spanish, Italian, Portuguese, Russian, Polish, Swedish, Hungarian, Indonesian, Hebrew, Arabic and Farsi. There's a lot more to come, so stay tuned!
Enhancements in Yoast SEO 15.6
Yoast SEO 15.6 comes with a lot of enhancements and bug fixes. For one, we improved Google preview in the Yoast SEO Elementor integration. We've not only added the Tag, Category and Primary Category snippet variables in the Google preview of our Elementor integration, but also the advanced snippet variables.
Googler Pascal Birchler, helped us make Yoast SEO work better with Web Stories. We now make sure that there's always a meta description for Web Stories and we've simplified the way we remove the default metadata from stories.
Yoast Duplicate Post: Rewrite & Republish
Another update we want to highlight is a brand-new version of the free Yoast Duplicate Post plugin. In version 4.0, we've added an essential feature: Rewrite & Republish. Many people use Yoast Duplicate Post to clone or duplicate an existing post to work on in the background. But in this process, after you did your updates you had to manually copy over the rewritten content to the original post. In addition, you had to make sure to not forget to manually delete the draft you made. We wanted to simplify this process. With Rewrite & Republish, we've made all of this one seamless experience!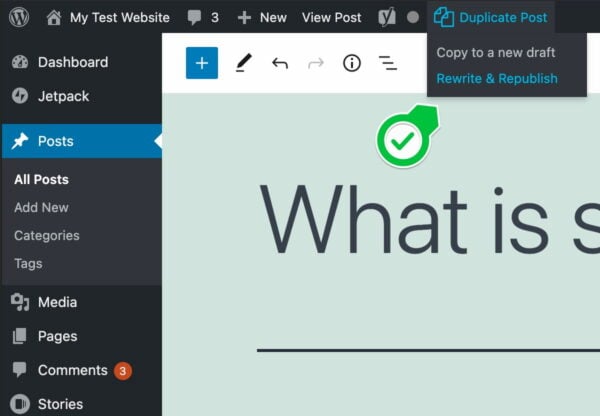 When you want to update a post with Rewrite & Republish, you simply hit the button to have the plugin start the process. It makes a new duplicate draft of your original post for you which you can edit in your own time. Once you are done, hit the Republish button to have the plugin automatically merge your updated post into the original one. It also automatically cleans up the draft for you!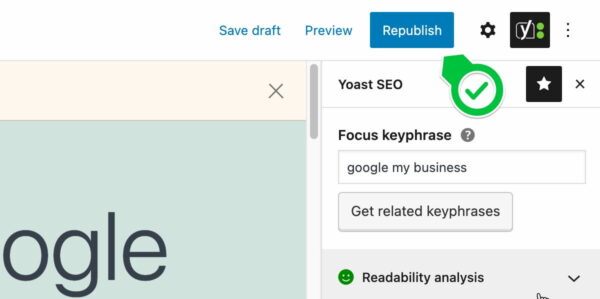 That's not all, because you can also schedule those updates! Yes, you can update your content in your own time and publish that update at a later date. Awesome, right? At Yoast, we are very excited about this new version of Yoast Duplicate Post as it will save us — and you! — tons of time and stress updating posts.
Note: Rewrite & Republish doesn't work in Elementor yet, but we're working on that!
Wrapping up the release of Yoast SEO 15.6
Yoast SEO 15.6 has a number of interesting additions, fixes and enhancements. In addition, Yoast SEO Premium brings word form support for Norwegian and a new estimated reading time feature — with a cool block for the block editor. Last but not least, the Yoast Duplicate Post plugin has now become an essential tool for anyone regularly working on their content!
The post Yoast SEO 15.6: Estimated reading time and Norwegian word forms appeared first on Yoast.