Is your page not attracting the number of people you thought it would? Or are you wondering what you can improve to get your page higher up in the search results? And to get people to stay on (and come back to) your site? There are a few things you can do to give your page a better chance at performing well. In this blog post, we'll discuss how you can determine which pages could use some extra love and what you can do to turn them into high-quality pages!
You may already be familiar with SEO and have a few pages that just don't perform the way you would want them to. Or perhaps you're not that experienced with SEO (what even is SEO?) and dread the thought of having to master it. In that case, we would like to assure you that it's not that hard when you know the basics.
It is important to realize that SEO can have a huge impact on your business and online findability. It's not just about using the right keyword a few times, search engines nowadays look at the whole picture. That's why we're such fanatic advocates of Holistic SEO. But before we go into that, let's discuss how to determine the quality of your pages and which ones you need to work on.
How to determine the quality of your page
It's important to determine which pages need improving and in what order. It can be tempting to just get started with the first page that comes to mind, but take some time to work out how your pages perform. This helps you prioritize and decide on what page needs your attention first.
Have a look at the metrics
You probably know your audience to some degree, but it's unlikely that you know exactly what they want. Or how they search online and navigate through your site. Even if you have a hunch or hear from them regularly, make sure to look at the data to validate what people do on your site and where you can improve. A great tool to do this is Google Analytics.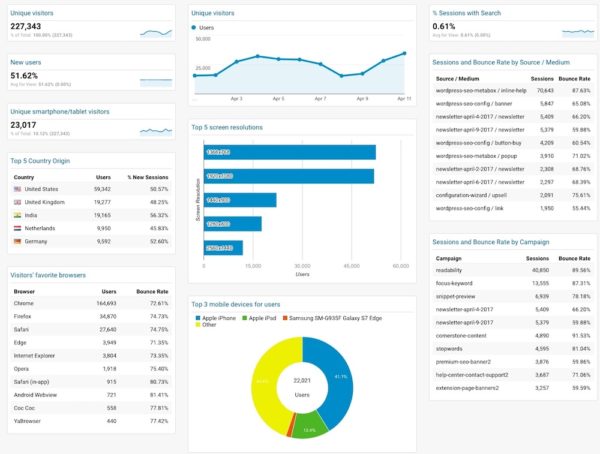 Google Analytics gives you access to lots of data about your site. It can tell you how many people visit your site and where they're coming from. But also, which pages are being visited most and how long people tend to stay on this page. All of this helps you determine the quality of your individual pages. Our guide on tracking your SEO with Google Analytics helps you understand this data and use it to determine where you can improve your page.
Be aware of duplicate content
When you maintain a site, especially a growing site, it can be tempting to use the same content on different pages. Don't give in to this temptation! When the exact content can be found on different pages, you have a case of duplicate content. This will hurt your chances of ranking high in the search results. Google can even penalize you for having them since they introduced the Google Panda algorithm.
You might have it on your page without knowing it. That's why we've listed the most common causes and solutions for duplicate content. Tools like Copyscape are your first step in doing a DIY duplicate content check, but please investigate a bit more like described in the article.
Identify low-quality pages with Screaming Frog
A tool you can use to easily identify low-quality content is Screaming Frog SEO Spider. When you run a query for your website in the SEO spider, you will get a list of all the URLs on your site. Now scroll through that list and visit every URL that makes no sense to you. The thing is, low-quality pages often occur in groups, not as a single page.
Think along the line of old .html pages, where you end your URLs with a trailing slash now. Think about your attachment pages or anything with too many numbers in it. These should all make you feel suspicious. Visit the page, see if it shows low-quality content that shouldn't be on Google. Test if these pages are indexed and see if there are more pages like them. Just go about it like that and you'll find these low-quality pages in no-time. Take a critical look at the pages you've found.
Moz describes an even more in-depth analysis of low-quality pages in one of their Whiteboard Fridays, you might want to check as well.
Tips to directly improve page quality
When you've determined the quality of your individual pages, it's a good idea to make a list in which you give priority to the pages you want to work on first. After that, the real fun begins. So let's have a look at the first six suggestions we have to improve your page quality.
1. Decide on what you want to do with the page
Chances are that you resurfaced a few outdated pages or pages that don't need to be shown in Google, even if you want to keep them on your site. The first step is to decide what you want to do with them. On the pages you want to keep, but don't want to have shown in Google, you can use the noindex tag. If a low-quality page still holds relevant links to other parts of your website and has some traffic due to, for instance, links from other websites, you can use noindex, follow in your robots meta tag. This way, Google can find the page, follow the relevant links, but it will keep the page itself out of the search results.

As for pages that are not up to date anymore, ask yourself the following question. Can you update the page by making a few changes to it? Great, then you can go to the second tip on this list. But for pages that no longer have any business being on your site anymore, it might be best to remove them.
What to do with the URLs? If they still receive a decent amount of traffic, redirect them. To a similar page or post if possible, otherwise to a related category or tag page, and if all of that doesn't fit, to your homepage. If there is little to no traffic, properly delete your page and let Google find the 404 or 410 error message. Your page will vanish from the search results and Google will be able to focus on relevant pages on your site instead.
2. Think about search intent
When you want to improve the quality of a page, it's good practice to take search intent into consideration. Search intent (or user intent) is the term used to describe the purpose of an online search. To be more exact, it's the reason why someone conducts a specific search. Over the years, Google has worked hard to improve its algorithm to be able to determine people's search intent. That's why you need to think about matching your content to someone's search intent when they land on your page.
The reason we're discussing this here is that you want to make sure your pages show up for the right search intents. When someone is looking for information, you don't want to send them to your product page right away. They're probably not ready for that yet. And when someone does have a transactional intent, you don't want them to land on one of your blog posts discussing the latest news. You want to make sure they go to the right product (or category) page right away.
Read more: Using the search results to create great intent-based content »
3. Create unique content
An important factor that determines the quality of your page is content. There are a few basics that you need to tackle right away. For one, always base your content on the right keyphrases by conducting keyword research. Also, if your low-quality page doesn't have a lot of text and doesn't hold a lot of information, this could be considered thin content. Your users and search engines aren't fans of this type of content, as it has little or no value to them. This is also the case with duplicate content, as we discussed earlier. So make sure to write extensively on the topic you want to be found on.
Try to be critical of your writing and become the source for people instead of copying another source. Although it's always good to keep an eye on your competition and the content they're putting out there, make sure to have your own voice. If you write unique, insightful, useful content, people will be much more inclined to actually read it and even share your content on social media or link to it. Google will see that content as an addition to its index.
We don't want to change the way you communicate with your audience. It's what makes you unique. The readability analysis in our Yoast SEO plugin can help you tweak a few things to create an easy to read text everyone will love. Our plugin also gives you free access to our courses like the one on SEO Copywriting, if you want to brush up on your writing skills. When it comes to writing great content, Google also gave us a kind of checklist in 2011 that's worth checking out. Most of what's in there is still relevant ten years later.
4. Show expertise and trustworthiness
Everyone can own a website nowadays. Which is great, as this opens up the web for everyone. But this online growth has also resulted in trust issues when it comes to sites you're not familiar with yet. That's why it's so important to show readers, and search engines, that you can be trusted and that you're an authority in your field. This doesn't just help your pages show up in the search results, it also helps users reach the level of trust they need to do business with you online.
Show your trustworthiness and expertise through your site and the content on your site. You can do so by using testimonials, being open about your business, security seals, and writing lots of content that shows your expertise. All of these will improve the quality of your pages, while also helping you build a strong brand online.
5. Work on your site reputation
Another factor that is closely related to trustworthiness is the reputation of your site. This is something search engines also take into account when determining the quality of the pages on your site. But how do they determine your reputation? By analyzing what others are saying about you online. For example, user ratings about your site and how positive these are. But also other experts or established sites mentioning your business on their site. Or any other information about your business or authors mentioned on other sites.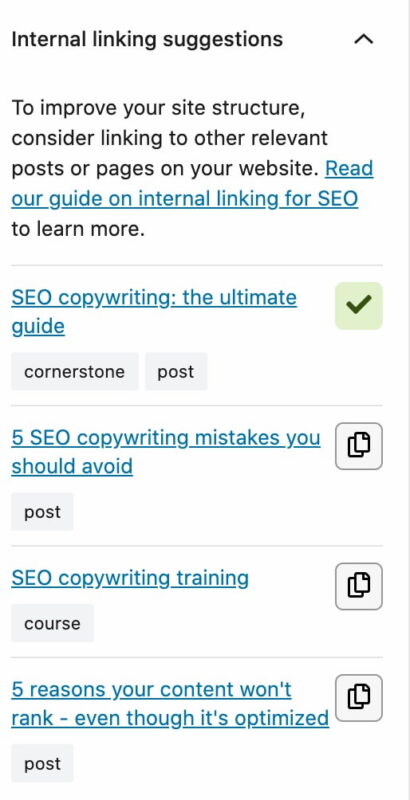 6. Link to and from your page
For people and search engines to be able to find your page, you need to make sure to link to it. From other pages on your site that are related to the one you're currently working on. So make sure to work on your internal linking and connect the content on your site to each other.
That being said, it's important to not go overboard and link to every page you own in one post. Always keep the user in mind. So make sure to link to pages or posts that are actually relevant and that you can link naturally to. Our plugin has a great internal linking tool that suggests related content for every post or page.
Tips to improve site performance
We still have 4 tips to go, and they're all related to the performance of your site. Some of them may take some more time, but these aspects are essential if you want to improve the quality of your pages and site. Not just for the search engines, but especially for your users.
7. Improve your site's speed
The speed of your website determines whether you get a good ranking in Google, and its importance keeps growing. Why? Because faster sites are easier for search engines to process. And because search engines know that users don't like slow websites. Users tend to buy less from slower sites and don't read and engage as much as they would do on a site with great site speed. So work on improving your site speed, you'll be thankful for it later. Google also announced that their new ranking factor page experience will roll out in May 2021, making speed and user experience on your site even more important.
8. Consider user experience
User experience, also called UX, is all about how users experience a site or product. So why should UX be part of your SEO strategy? Search engines want to provide their users with the best result for their question or search query. The best result doesn't only mean the best answer, it also means the best experience. So even if you've written an excellent answer in a post, but your site is slow or a mess, Google won't consider your post the best answer.
Think about the goal of your site and specific pages. What do you want visitors to do on your page? Buy stuff? Read your articles? Your design and content should support this goal. Having a clear goal in mind will also help you prioritize the improvements for your site. This ties in with the search intent of a certain page, but you should also consider whether the design and structure of your pages support the goal of your site. And how does your site work on mobile devices?
9. Don't forget about accessibility
The last question mentions your mobile site, and with good reason. Mobile is such a big part of most people's life nowadays, that you don't have the luxury of not having a well-performing mobile site. Make sure your site work on different devices and in different browsers to cater to every one of your site visitors. We have an ultimate guide on Mobile SEO that helps you determine the state of your mobile site, and what you can still improve on.
10. Keep your site healthy and safe
The safety and health of your site is important for the visibility of your site, but it's also important for you and your business. So make sure to check how safe your site is right now and make the necessary improvements to keep your site happy and healthy. If you're using WordPress, we have blog posts that help you with your site's health and your security in a few easy steps.
Time to improve that page quality!
All of these tips will help you improve the quality of your pages. And give Google a website that truly helps their visitors, and in the end, simply answers their question. As soon as you have cleaned up all that low-quality content and all high-quality pages surface in Google, you know you've made yet another sustainable step towards better rankings. Have fun!
Keep reading: What is quality content and how do you create it? »
The post 10 tips to improve the quality of your page appeared first on Yoast.