Every month, we organize a free webinar to discuss what's new in the world of SEO and WordPress. During these webinars, our SEO experts Joost de Valk and Jono Alderson guide you through the latest news and tell you what you need to know for your site. This time there was lots to discuss, from Core Web Vitals to passage ranking and WordPress reaching 40% market share! But WordPress wasn't the only one reaching a milestone, the block editor and our very own plugin also had something to celebrate. Let's take a look at the SEO and WordPress news in February 2021.
Watch the February 2021 SEO news webinar
This month's webinar was packed with news about Google, WordPress, Yoast and other fun stuff. Want to (re)watch it right now? You can! Or if you prefer reading, simply scroll down to read all about the highlights of this webinar. Enjoy and we hope to see you back again for our next edition on the 30th of March 2021.
Want to receive a reminder before the next edition of our webinar? Subscribe to our newsletter below this post and receive SEO tips and other news in the meantime!
Latest Google news
True to form, Google has lots of SEO news for us this month. So let's dive right in and find out what this means for your site.
The quality of your site matters
This month, Google made a few statements that are a good reminder that site quality matters. For one, they've shared that you need to score well on all Core Web Vitals when this becomes a ranking factor in May. These Core Web Vitals metrics look at all kinds of situations, so make sure your site performs well everywhere and for everyone. You can check how well you're scoring by using tools like Google's Lighthouse and Pagespeed Insights tool or check out our post on 5 ways to improve your Core Web Vitals.
Google also stated that duplicate content is not a negative ranking factor. It's important to know that there is a difference between something that prevents you from getting the best rankings possible and things that actually get you a penalty from Google. Duplicate content doesn't get you a penalty, but it can hinder your rankings. If you have multiple pages optimized for the same keyphrase you will probably not rank as well as you could. Having one page on a subject will probably get you a higher ranking as you're making it easier for Google to determine which page to show. Always choose quality above quantity.
Another piece of news that came out, is that call to action overlays can hurt your rankings. The reasoning behind this is that Google doesn't want you to 'trick' site visitors. If you create a page that answers the question that someone has googled and then immediately shove a popup in their face, that's not a good experience. You've got to help the user before you ask them to take a look at your products or sign up for your newsletter. This will benefit their experience and your SEO.
A quick way to learn more about your search results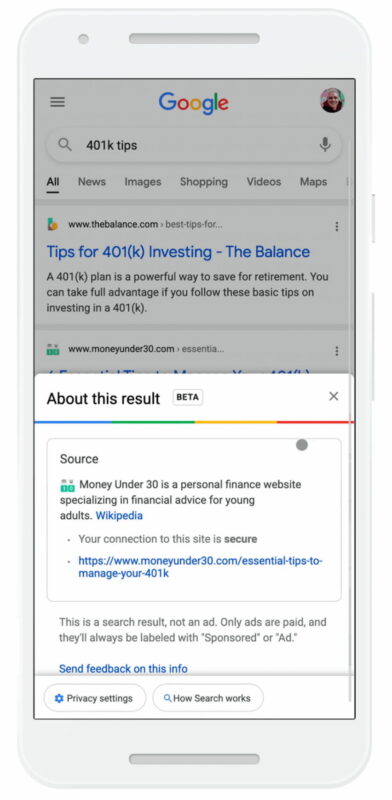 About a week ago, Google launched a quick way to learn more about your search results. They're now giving (mobile) users the option to learn more about a source before they go to the actual site. In the example, the search results now show three dots in the top right corner of every search result. When you click on them, a popup shows you more information about the search results and company.
Some people in the industry have already noticed that the information that is shown there is often sourced from Wikipedia. So if you own a site, this would be a good moment to check your Wikipedia page and whether the information there is still accurate and reflects your brand. Try to keep it neutral and informative.
Search Console Discover report includes Chrome data
Earlier this week, Google added a new association functionality to Search Console. This includes Chrome data in the Search Console Discover report. And this was actually a bit of data that was still missing to really figure out what impact Discover traffic has on your site.
To be clear, Google Discover is not the same as Google Search. It's a feed, similar to a news stream or your Facebook wall, that Google creates for you when you open a new tab on your mobile device. A feed that automatically suggests content that might be interesting for you. Google Discover has been quite hard to figure out for people in our industry and measuring it was also a bit tricky. We at Yoast had the same problem. We saw lots of traffic coming in from Google Discover, but couldn't really pinpoint what the effects were or what was going on. With the additional information that Google has now added to the Search Console Discover report, this will now be much easier.
Passage ranking has gone live in the US
On February 10th, passage ranking went live in the US English search results. So, before we go into this, let's elaborate on what passage ranking is. Google has told us that they're now able to not just index web pages, but individual passages on these pages. By focusing more on the relevancy of specific passages on a page, they can show people the exact information they're looking for right away. This would mean that it's no longer just your pages that rank, it can also be one of your passages that Google can show as a search result.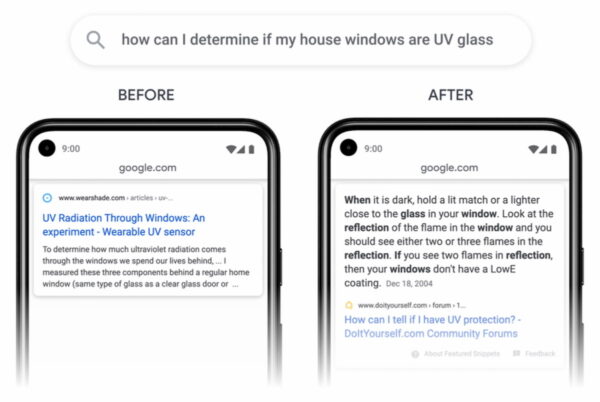 It's tricky because it's still a bit unclear what the impact of passage ranking will be. Just make sure that your content is always well structured. By using headings, subheadings, paragraphs and other elements that prevent your content from being just a wall of text. Tell the story in a way that takes readers by the hand and points them to where they can find what. And don't overdo it to a point that your text doesn't flow naturally anymore. It shouldn't feel optimized for Google, it should be optimized for your readers.
Latest WordPress news
That was it for the SEO news that Google had for us this month. But February also brings us WordPress news. WordPress is gaining even more market share, it will become easier to migrate your site to HTTPS and Gutenberg celebrates its 100th release this month! Let's take a closer look at the latest news at WordPress.
WordPress passes 40% market share
So this is very exciting, WordPress now has more than 40% market share of the top 10 million websites. That's quite an achievement, also because it's less than 18 months ago that WordPress passed the 30% market share. The great part is that while WordPress is gaining more and more users, the features and possibilities in this platform are also constantly growing.
As Yoast, we're a part of the WordPress community and we've had the pleasure of growing alongside WordPress these past few years. We'll keep contributing to this open-source platform for years to come. Because we love WordPress and all the possibilities it provides for everyone, even if you're new to websites. If you want to get started with WordPress, but don't know where to start, check out our free WordPress for beginners training.
Easily migrate from HTTP to HTTPS with WordPress 5.7
Being able to easily migrate from HTTPS to HTTPS will become part of WordPress core with the 5.7 WordPress release. Now, this may seem like a technical topic, but don't scroll away just yet. Securing your site with an HTTPS connection is critical if you don't already have it. It secures the connection to the website someone is visiting. An easy way to see if a site is using an HTTPS connection is by looking at the browser address bar. Is there a closed lock to the left of the URL? Then this site has a secure connection. Is the lock not closed or are you seeing a different kind of message? Then it's not secure and vulnerable to attack.
If you want to protect your users, files and other information that's being hosted on your site, you need to use HTTPS. Another reason to do this is the fact that everything new that's happening on the web right now, requires this secure mode. So make sure to check your connection and fix this if you're still using HTTP.
Gutenberg plugin marks its 100th release
Another milestone to celebrate: the Gutenberg plugin marked its 100th release with version 10.0! This is a good reminder that Gutenberg, or the block editor, has been around for a while now. If you haven't tried this page builder yet, this is a great reason to give it a go. Or if you've tried it at the very start and weren't impressed, these numerous releases can be a reason to give it another try. As they definitely came with lots of improvements.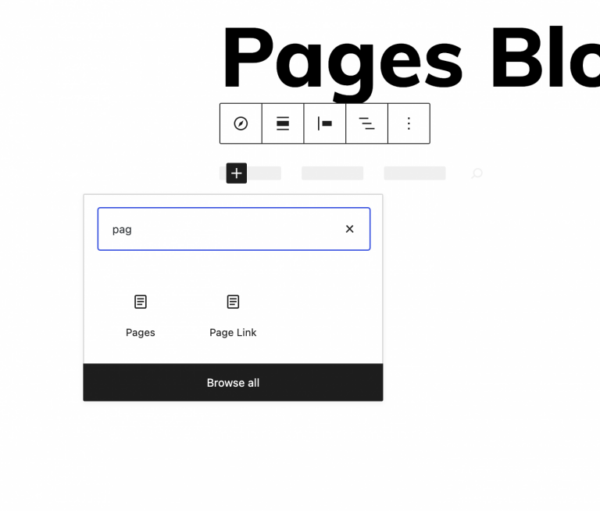 Gutenberg offers you a fluid experience by simply selecting and dropping blocks into your page. Helping you style the page with well working elements that structurize your content. It's a great alternative to other page builders and becomes better with every release. If you're curious and want to learn more about Gutenberg, we have a free WordPress block editor training course that can help get started.
In other news
In addition to the latest news in SEO and WordPress, we've seen other news that piqued our interest. Shopify has introduced a whole new way of buying your favorite products through social media. And Amazon has acquired Selz, a company that creates tools that help businesses easily launch their own online stores. Interesting developments that can change the landscape of online shopping for many, so let's quickly dive into this news as well.
Shop Pay expands to Facebook and Instagram
A while back, Shopify launched their app named Shop. Which gives users the option to browse all of Shopify's sites in one app and find the product they're looking to buy. This app provides you an experience that's similar to using Amazon. The payment method they use there is Shop Pay and they rolling this out in other places as well. Now, they've also expanded Shop Pay to Facebook and Instagram.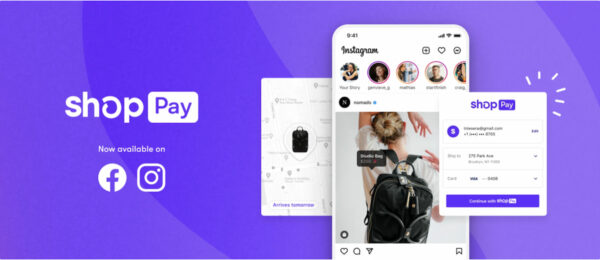 With Shop Pay you can click on a product that you're seeing on Instagram or Facebook and instantly pay for it. Without having to leave that social platform. This means that Shop Pay isn't just offering a great payment method, it's also creating an eCommerce platform and marketplace on these social platforms. And on other places where it's being rolled out. This kind of cool, and it also means that Shopify is becoming a viable competitor for big players like Amazon. It will be interesting to see where this goes.
Amazon has acquired Selz
Although they've kept it quiet for a while, Amazon has bought Selz to create easy-to-use tools for entrepreneurs. Selz is a competitor of Shopify that helps small businesses build online stores. This feels like a smart move on Amazon's part as it can attract lots of local businesses to their platform. But it can mean that lots of local business owners decide to focus all of their efforts on this platform, instead of on creating their own site. With their own social media. This can take away from creating a brand and building a relationship with your audience. On the other hand, if this creates the possibility to host your own site, but also make use of the logistic of Amazon, this new partnership can bring lots of value to business owners. We'll have to wait and see how this turns out.
Latest Yoast news
A free breadcrumbs block, a cool digital story on structured data, two new podcasts and a milestone of our own. We've also been keeping busy at Yoast HQ, so check out what's new at Yoast.
Our latest releases
Another month has passed and we've had two new releases of Yoast SEO. In our Yoast SEO 15.8 release, we've added a free breadcrumbs block. You can use this block to add breadcrumbs to your page when you use the block editor. Which is fun, but will be even more fun when full site editing is here. This block will allow you to have total control of where you want to place your breadcrumbs.
Our Yoast SEO 15.9 release comes with different performance improvements to the plugin. It's not a big release, but it does contain some improvements that further optimize how you can use Yoast SEO to optimize your site. And, together with this release, we've also released a new version of Video SEO that is now compatible with Elementor!
A new digital story on structured data
Have you heard of digital stories? They're actually interactive and visual types of content that tell a story about a certain topic. At Yoast, we've already created a few digital stories and since this month we also have one on Rich results, structured data and Schema. It looks fun, tells the story on structured data in a way that makes it easier to understand, and even has a quiz. Make sure to check it out!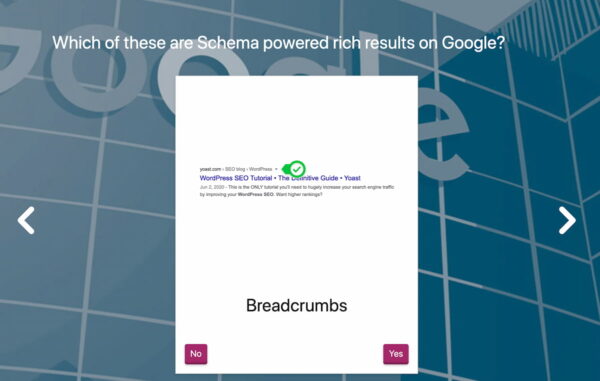 The digital stories that we create at Yoast are made with the Gutenberg block editor. This shows you what it's capable of. Without any additional plugins or other tools, the block editor can help you create visual and interactive pages that tell a story.
The Yoast SEO podcast
In the last couple of weeks, we've recorded another two podcasts. The first one was with Purna Virji, who works at LinkedIn, and it's all about building your brand on LinkedIn. So if you're looking for inside tips on what works on LinkedIn, this podcast with Purna Virji could be the one for you.
Even more recent, we've recorded a podcast with Jes Scholz, who works at Ringier. In this episode, Jes provides you with a view on SEO beyond Google Search. Without giving too much away, you can expect to learn a lot about Google Discover in this podcast. So, give this podcast with Jes Scholz a listen when you want to learn more about the world of SEO.
Our own milestone
Last but not least, we had our own (not so) little celebration at Yoast. A few weeks ago our Yoast SEO plugin reached over 300 million downloads. That is just a mind blowing number that we're very proud of as a team and we want to thank all of you for your continued trust in our product. You can be sure that we'll continue working on our plugin to hopefully keep that trust in our plugin for many years to come!
That was the SEO news in February 2021
Those were the highlights of the SEO and WordPress news webinar in February 2021. Yes, just the highlights, which means that Joost and Jono discussed even more interesting news in the actual webinar. If you're wondering what else they talked about, check out our webinar on YouTube or at the top of this post. We hope to see you again for our next edition on the 30th of March 2021. Want to receive a reminder for the next edition? Subscribe to our newsletter below and receive SEO tips and other news in the meantime. Unfortunately, we can't tell you what they'll discuss yet, but we can tell you that it will be fun. See you there!
Read more: The latest news in SEO and WordPress: January 2021 »
The post The latest news in SEO and WordPress: February 2021 appeared first on Yoast.
Yoast