Have you seen that 2016 movie called The Founder? It's about Ray Croc, the guy who built McDonald's into a fast-food giant in America.
While he may not be the most perfect business role model (spoiler: the biopic claims he practically stole McDonald's from its original founders), one thing is certain:
None of his success would have come without the right processes in place. He turned a popular hamburger stand into a well-oiled machine capable of cranking out burgers faster than anyone in the world.
Processes.
It's what has revolutionized all kinds of industries—not just restauranteering. 
Without an airtight process, Henry Ford never would have built his manufacturing empire, and Arianna Huffington wouldn't have turned journalism on its head.
Processes.
If you want to grow your web design business beyond just yourself, then you need solid processes.
Put simply, a process is just a way of accomplishing a certain task. In a web design business, you might have processes explaining what to do when:
A client calls you
You start running low on clients
A deadline is approaching
You complete a project
…and a hundred other things.
---
Why processes?
Without processes, you're left to reinvent the wheel every time a common situation arises. 
That wastes time, effort, and money. And it slows down your business growth.
So today, I want to share with you some of the most mission-critical processes I believe web design businesses should focus on in order to scale and succeed.
Here they are:
1. A sales process to keep money coming in
Without a positive cashflow, you don't have a business on your hands—you have a very expensive hobby.
That means perhaps your most mission-critical process for growing your web design business is getting web design clients.
That means working on your sales process.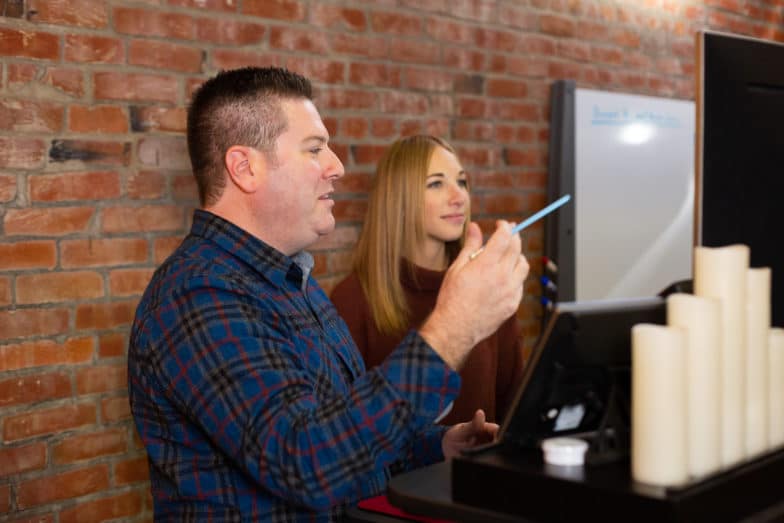 Selling haphazardly or by coincidence will not support a scaling business. Relying on word-of-mouth referrals that may or may not continue next month is a risky strategy.
Instead, you must develop a process to sell your services continually.
It can be as simple as setting a time on your calendar every day to make sales calls, follow up on email leads, or search through job boards.
You could get much more elaborate by hiring a salesperson or using automation software like Mailshake or Reply.io to scale your sales efforts. Many web design agencies have seen huge success with sales funnel software too. Any and all of these are worth a try to see what sticks with your business.
---
2. A client onboarding process to inspire confidence
Once you've got a steady stream of sales efforts happening, it's important to take care of any warm leads that come your way.
Perhaps the most critical moment in the client journey is the time between agreeing to do business together and actually signing a contract or writing a check. 
In those moments, you should have a solid process in place to inspire confidence that your client has made the right decision in hiring you.
You can inspire confidence in a number of ways including:
Responding promptly and positively to emails or phone calls.
Answering questions positively without becoming irritated.
Asking the right questions to move the project forward.
Explaining the various processes of your web design project together.
Outlining timing, deadlines, and other important details.
This can be as simple as sending a templated onboarding document with a few simple customizations. A well-thought-out document or video can go a long way to make the client feel comfortable and manage expectations.
You could get more advanced by hiring an onboarding specialist to build a process for or using client onboarding software.
---
3. A project management process to get work done
Of course, once you've found web design clients through a sales process and onboarded them successfully, the next important task is to complete the work you've agreed to. 
For that, you'll want to focus on a project management process that helps you move your projects along smoothly from start to finish.
This process can include:
How you'll communicate with your clients (you could use a CRM)
How you'll gather assets needed to build your site such as copy, photos, brand elements, etc. (you could use something like ContentSnare)
How you'll collect and address feedback you receive from your clients (Responsely would be helpful here)
How you'll track milestones, due dates, change orders, and all the millions of details that go into a web design project.
It can be easy to waste time trying to find the right software to solve your problem. There are literally hundreds of choices. 
And while it's a great idea to ultimately use software to manage your projects, you may find it's easier to start with a less technical approach to understand how your own thinking and systems work. 
From there, you can find the best software to fit your needs. Too often, we find a shiny new software and then try to fit our processes to what the technology offers.
---
4. A hosting process to manage all your client sites
As you start to get more web design projects, things can quickly begin to spiral out of control in terms of juggling multiple projects and keeping every client happy with the current state of their site.
You can avoid a lot of headache by building a process to handle the hosting and management of all your client sites.
Flywheel is a great solution for that. We'll help you run regular backups, transfer the monthly bill to your clients, and collaborate with other people on your team (see point 6).
If you're still working on client websites through twenty different hosts all with different passwords and frustrating login requirements, you should give Flywheel a try.
Either way, you need a system for managing your sites on autopilot so you can get back to sales, design, and running your business.
---
5. A billing process to get paid
There's an argument to be made about getting paid before or after your work is completed.
Either way, you need a solid system to help you get paid at the right stages of your web design project.
This process could be as simple as setting up a checklist that you follow every time you start or complete a project. 
You can also use invoicing software to automate your invoicing, follow-up, and payment processing.
---
6. A hiring process for finding good talent
Once you've got all these processes humming along nicely, you'll hopefully begin to bring in more web design work than you can handle on your own each month.
That's when you'll need a process for finding and hiring talented web designers.
For starters, you may want to post a quality job listing on a web design job board. But if you're really serious about finding the right talent, you may also want to try using a service like ZipRecruiter which will distribute your job listing to 100+ of the top job boards on the Internet.
Once you get a few candidates, you need a good process for scheduling interviews, conducting interviews, making an offer and actually hiring them.
You can choose to start by only hiring contractors or you may want to hire full-time employees. Either way, I recommend you use something like Gusto to onboard new employees and manage their paychecks and tax documentation.
From the get-go, you'll also want an organizational chart so you and your team understand exactly how your company is set up. You can't wait until you have 10, 50, or 100 people working on your team to figure out who reports to whom and has which responsibilities.
Start simple. Start now. Grow as you go.
The key to mastering business processes is to address the most critical ones first. Start simple with the most basic processes and then move on to more complex processes as you grow.
Above all, start now. It's much easier to build, document, and improve processes along the way than once you have a small team operating on a daily basis.
Aside from human capital, processes are perhaps the best investment you can make in your web design business. 
---
Scale your web design business with Flywheel managed WordPress hosting!
As your business grows, choose a hosting partner that can assist you along the way. From better performance and security to free SSL and site backups, Flywheel takes care of your sites so you can focus on growing your business! Learn more about Flywheel here.
Layout | Creative content for designers, developers, & marketers